Christopher Polatin, MS, CERP – Principal & Restoration Ecologist
Chris Polatin works as a restoration ecologist through his companies Polatin Ecological Services, LLC and Land Stewardship, Inc., which dedicate themselves to ecological restoration planning, invasive plant management and native plant establishment. Chris is passionate about ecological restoration and has worked in the environmental field since 1999. He has a BA in Environmental Studies (conservation science & natural history) (University of California Santa Cruz) and an MS in Conservation Biology (Antioch University New England).  He is a Certified Ecological Restoration Practitioner (CERP #0009) through the Society for Ecological Restoration (SER). Chris chairs the Gill Conservation Commission, serves as a committee member for the Gill Town Forest Steering Committee, board member for Friends of the Fannie Stebbins Memorial Wildlife Refuge, as Massachusetts director for the Society for Ecological Restoration – New England Chapter, and is active on the Certification Committee for SER.  
More information on
Joan Deely, MS – Project Manager & Permitting Specialist
Joan Deely has worked with Polatin Ecological Services, LLC and Land Stewardship, Inc. for eight years managing projects, preparing management plans and monitoring reports and filing/representing permit requests with the Massachusetts Department of Environmental Protection and municipal conservation commissions. Joan also presents workshops and presentations on invasive plant identification. She has a BA in Cultural Anthropology from University of Massachusetts Amherst and an MS in Resource Management and Administration from Antioch University New England. She serves on the Northfield (MA) Conservation Commission.
More information on
Andrew Morrison, MS – Project Manager & GIS Specialist
Andrew works as a project manager, GIS specialist and forest ecologist with Land Stewardship, Inc. where he is responsible for planning, mapping and coordinating invasive species control, revegetation and Natural Areas Forestry projects. Andrew has formal training in forestry and conservation science, and holds a BS in Forest Ecology from SUNY/ESF and an MS in Conservation Biology from Antioch University – New England. Andrew has extensive field experience with plant surveying and mapping gained through academic and non-profit work, and an ecological restoration/invasive plant technician. Andrew is a board member of the Putney (VT) Mountain Association.
More information on
Jessica Applin, MS – Project Manager & CR Stewardship Specialist
Jess has been with LSI since 2016. She works as a project manager and oversees our baseline monitoring program. Jess brings a strong interest in wildlife to our team, holding a BS in Biology and an MS in Conservation Biology from Antioch University – New England. A Massachusetts native, Jess has been a participant with many of our state's conservation organizations, including The Westfield River Wild and Scenic Advisory Committee, The Nature Conservancy and the Trustees of Reservations. Over the winter, Jess worked as an Adjunct Professor at Westfield State University where she taught "Principles in Environmental Science". In addition to her work with invasive plant species Jess is a Level II certified CyberTracker and a member of The Wildlife Society.
More information on
Nick Cravedi – Restoration Operations Manager
Nick has been on the front lines of PES and LSI fieldwork since 2009. He is well versed in all aspects of ecological restoration practice and has extensive experience with tree-work, machinery operation and maintenance (hoisting license), and back-country firefighting. In the off-season, Nick is an AASI Level 3 snowboarding instructor and Level 200 Coach.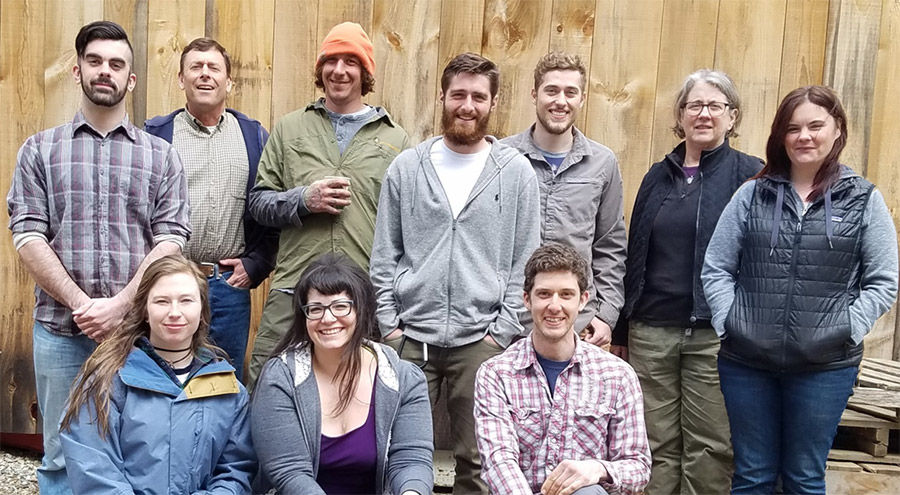 Pictured from left to right:
Standing row: Skylar McVety, Chris Polatin, Nick Cravedi, Alex Cahillane, Joan Deely and Jess Applin.
Kneeling row: Kristy Cominoli, Andrea Cressoti and Andrew Morrison.
Staff not pictured: Alex Krofta & Marshal Bertrand.